By Christina Heath
 Christina Heath (nee King) served in the RAN Nursing Service first in a permanent role and later on a part-time basis in a reserve capacity for over 30 years. She therefore provides a unique insight, especially to Balmoral Naval Hospital at HMAS Penguin from its peak capacity through to its closure.
For serving personnel, HMAS Penguin was the 'jewel' of the RAN crown. One of five Sydney Harbour foreshore naval bases, she is perched high on Middle Head overlooking Hunter's Bay and the sparkling waters of Middle Head and Balmoral Beach. With accommodation overlooking yachts, easy access to Balmoral Beach, national parkland and the bright lights of Mosman and Sydney city, it is the epitome of the dreams of most young people. In early 1977 when I served at Penguin as a RAN Nursing Service (RANNS) Officer on my first posting, I certainly considered myself fortunate.
I was sent to Penguin not to nurse, for which I thought I had joined the Navy, but to do a scuba diving course to prepare me for the tropical reefs of Papua New Guinea! The two-week diving course was sandwiched between my RANNS entry Junior Officer's Administration Course (JOAC) at HMAS Cerberus and my future hospital posting at PNGDF Lombrum, Manus Island in Papua New Guinea. Each day at Penguin we practised diving skills in the open-air, saltwater swimming pool, birth-place of the 'Australian Crawl'. However, the magic of that pool did not rub off on me.
After a while I decided to leave the scuba diving to the men, preferring to stay with my new snorkelling skills, which I considered much safer.
They proved quite adequate for me in the ensuing months in PNG when I spent some wonderful hours snorkelling amongst the coral reefs and tropical fish – so vibrant in those northern waters. I thank Penguin for the skills allowing me those remarkable memories.
Manus Island off Madang is only 70 miles long, and the PNGDF base of Lombrum was then linked to the town capital of Lorengau by 20 miles of dirt road – the major road of the island. In 1977-1978 the two RANNS Officers were the only two single white girls on the island, and along with the two RAN Medical Officers we worked at the base hospital at Lombrum with two civilian PNG Registered Nurses and numerous PNGDF Medic staff, caring mainly for the native community. For better communication RAN personnel were encouraged to learn Pidgin English. Patients would walk or canoe miles to attend the 'Hausick' where we attended to basic and emergency surgery, delivered babies, and cared for the common diseases of leprosy, TB, malaria, and tropical ulcers. Working long hours at times, days off were our own. If not snorkelling I would ride off through the palm trees on my Suzuki RV90 motorbike to Lorengau to see the markets, pick through the seashell stalls there and watch the islanders going about their business. It was an idyllic lifestyle, measured and tranquil – quite a contrast to that of my homecoming.
Later in 1978 I was posted back to Penguin to take up clinical shift working duties as a Senior Sister RANNS (equivalent to Lieutenant), working between the Medical and Surgical Wards of Balmoral Naval Hospital – the major RAN hospital. I was accommodated in the Wardroom of the base F with the other single officers of the time from Penguin and HMAS Platypus.
Ward work was extremely busy dealing with the pre- and post-operative surgical, and the multitude of medical patient conditions. Recently I found an old ward patient list of an after-hours shift I did around that time, crumpled up in an old navy raincoat pocket. It was a reminder of the hospital and the cases we treated. The top hospital Surgical Ward consisted of 38 beds. At the start of the shift only seven were vacant. The lower hospital Medical Ward consisted of 28 beds and at the start of the shift only one bed was vacant. So that day I was the Duty Nursing officer responsible for 59 hospital patients. In the Surgical Ward, the condition of patients ranged from orthopaedic complaints (fractured ankles, femurs, tibia/fibulas, knee injuries and back pain/strains), to general surgical problems (pre- and post-appendicectomies) and general post-emergency conditions (pneumothorax, sciatica and haematoma).
In the Medical Ward patient complaints ranged from headache and viral illnesses (tonsillitis and bronchitis, glandular fever, and hepatitis), to stomach ulcers, skin conditions, and convulsions. As the Army base was within close proximity on Middle Head, one or two patients were Army personnel.
In the 1970s, Medical and Surgical Ward were in quite separate buildings (implied above by 'top hospital' and 'lower hospital'). Both had two floors. The Surgical Ward complex, at the top of the base near the gangway entry, housed on its upper floor the operating theatre with its anaesthetic and recovery room, and underneath the X-Ray, Pathology, Pharmacy, Outpatient, Dental, and Administrative Services. Down some 200 concrete steps from the top hospital, Medical Ward housed the Physiotherapy and Specialist Departments. Staff and patients called the connecting hill 'Cardiac Hill' and often used it for cardiac testing.
Cardiac Hill was definitely the quickest way between ward blocks, and could keep personnel quite fit. Patients when admitted to/discharged from Medical Ward Block were driven between levels. Discharge procedures always included a visit to MOIC (Surgeon Captain in Charge of the Hospital). However, staff collecting linen, picking up and delivering documents, and delivering pathology were not so lucky and had to 'hop it', as did the RANNS Officers on their afterhours rounds.
In 1979 I became the Medical Ward Nursing Officer-in-Charge, working with the Medical Officer in Charge of the Ward; firstly, Surgeon Lieutenant Noel Williams, and then Surgeon Lieutenant Bob Green (who became Surgeon Captain Green). I worked happily in this position until early 1981 when I transferred to the reserve listing and left full-time RAN life. For me this time in charge of the Medical Ward was the 'icing on the cake' of my naval years. It was extremely busy each day, but the Medical Officer and I worked with some wonderful Medics – WRANS and sailors. Civilian support workers too helped create some special moments.
Surgeon Captain's inspection rounds occurred monthly. Piped into each of the hospital blocks, the Surgeon Captain, accompanied by the hospital's Senior Nursing Officer, Senior Sailor and the civilian contract cleaners' manager, inspected every cupboard, bed, kitchen, work, office and recreational area for tidiness, cleanliness, maintenance and upkeep problems, taking about a half hour to cover Medical Ward. One of my particular memories is of a Senior Nursing Officer of my time wearing white gloves, and each month running them along ledges with great gusto. She often focussed her search for dust on the staircase – a known hot spot – and each time dust was discovered Carlos, the Chilean cleaning manager, was crestfallen.
Besides the above recollection, there are two other vivid memories from that time. One was formed early in 1979, the day of an accident on board HMAS Melbourne at Garden Island. Under the command of Commodore David Martin at the time, chains of a winch on the ship flipped back causing injury to a number of sailors. Soon a convoy of ambulances transported the injured across the Sydney Harbour Bridge to the Balmoral Naval Hospital, with the less injured arriving at the Medical Ward. Without announcement, at about 1500 hours, Commodore Martin himself rushed through the front doors of Medical Ward right next to my office. I caught a flash of gold from his uniform as he crossed my line of vision to see 'his boys'. His concern and compassion were greatly appreciated by his sailors who admired him such that they would walk over hot coals for him if needed. On retirement the Queen herself honoured him with a knighthood and as Rear Admiral Sir David Martin, he was later the Governor of New South Wales. Loved and respected, he died in office after giving his name to the Sir David Martin Foundation – Caring for Young Australians.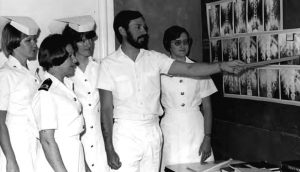 My last particular nursing memory stems from the relationship that the civilian Dr Brodziak had with Medical Ward. Once a fortnight this elderly, eminent, kindly ex-Army WWII veteran Consultant General Physician would do afternoon rounds with the Medical Ward Surgeon Lieutenant. Not only were the years in which he did this for the RAN the closing years of his medical career, but they occurred when the role of the General Consultant Physician was swiftly being overtaken by the new roles of the various specialist doctors. Tradition was that on the afternoon Dr Brodziak attended the ward, the Nursing Officer-in-Charge served him and the Medical Officer afternoon tea with Silver Service. It was very elegant and traditional and other worldly, in the hustle and bustle of busy ward life. The last day Dr Brodziak attended his rounds was a sad one, and he left that afternoon a solitary figure having completed many loyal years of connection with the Services.
After transferring to the Reserves in 1981, I returned and worked at Penguin three times – for two short periods 1981 – 1986, and one extended part-time service 2005 – 2007. By 1986 the Medical Ward was incorporated into a joint Medical/Surgical Ward in the Upper complex; a new impressive theatre suite adjoining the ward was completed allowing more major surgery; the hospital was accredited; and flow-through of patients had increased with shorter hospital stays. The Balmoral Naval Hospital was at its peak with full RAN staff.
I saw changes when I returned to the hospital some 20 years later. There were civilian nurses and doctors supplementing RAN health personnel and numerous patients were being treated at civilian hospitals. The Balmoral theatres were running, but few operations were performed. While I was there, the last operation was carried out. On 10 October 2006 with ABMED Heath Jones, I post-operatively attended the very last patient. After I left in 2008 the hospital closed to make way for a Health Centre. Current in-patients were sent for a time to Holsworthy Hospital and then transferred to the newly opened 'RAN Ward' of St Vincent's Hospital, Darlinghurst – today Sydney's RAN hospital facility.
I shall always remember Penguin with her fine Balmoral Naval Hospital, which was such a part of the base where I spent many happy years. Significantly I chose Penguin for my wedding celebrations. In 1986 I was married there beneath the trees in front of the Wardroom.